MSQ Healthcare Innovation NYC Roadshow
New York, Jun 20, 2019
Venue:PwC NYC Head Quarter (Roundtable Session),
300 Park Ave (Roadshow Session), New York
MSQ Healthcare Innovation NYC Roadshow brings together 20 Chinese healthcare strategic partners/ investors and western companies to generate synergy which will fuel this wealthy ecosystem of partnering and investment in the healthcare industry.
Roundtable Session Highlights:
MSQ and PwC co-hosted the roundtable discussion session. Representatives from the PwC discussed the following issues that Chinese investors focused on, including China inbound deals, international tax planning from both corporate and personal perspectives, regulatory and compliance affairs regarding small and medium-sized private companies, and financial due diligence and audit engagements for multinational manufacturing and retail companies.
Roadshow Session Highlights: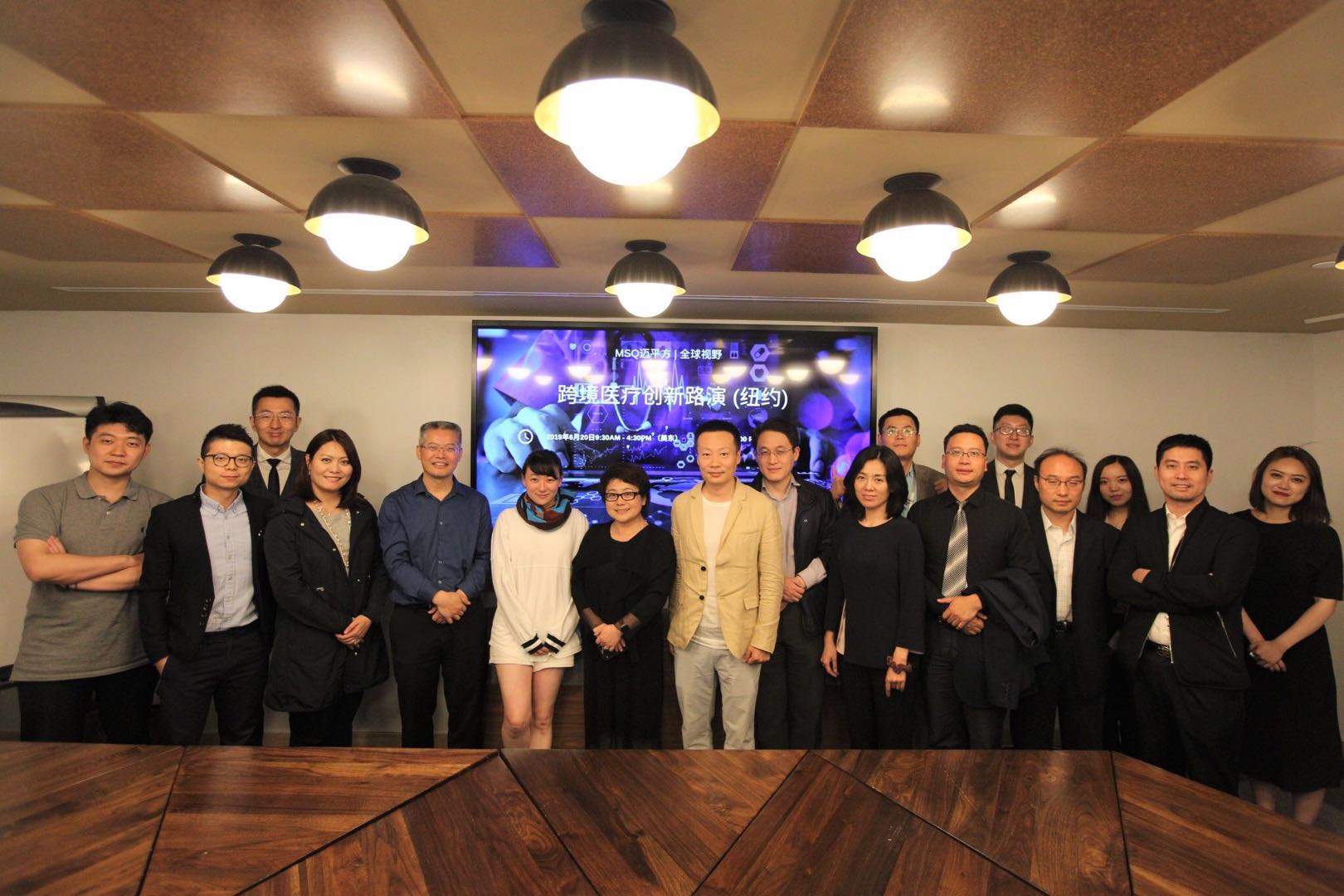 Four selected healthcare companies to present at our roadshow sessions with our investors:
1. A multi-product medical device company employing a unique and proven business model designed to advance products from concept to commercialization. It focuses on single-use, interventional medical device products with the potential for high margins and high impact in attractive markets, and streamlined pathways to initial regulatory clearance.
2. A therapeutic company that uses technology empowers people to move in new ways and without pain – to recover mobility, improve wellness, and enhance physical performance. The company currently has over 4000 facilities around the world and has helped millions to safely and consistently reach their goals and achieve better outcomes.
3. A medical device company that uses cross-linking technology to develop and is currently under clinical testing a comfortable noninvasive one-time vision correction treatment.
4. A diagnostic/software company that has developed a next-generation approach to objectively measure chronic pain. The platform achieves this by assessing neural activity from a patient's brain and processing and decoding the data through proprietary algorithms
Investors Highlights
Rong Yu, Ph.D. MBA., Chairman of the Board at Meinian Onehealth Healthcare Holdings, Chairman at Tianyi Investment Group, Deputy Secretary General at China Association of Technology Entrepreneurs. Dr. Rong Yu ranked No. 366 in China Rich List 2018, and Billionaires 2019 on Forbes Lists with net worth for US$1.2 Billion. Meinian Onehealth Healthcare Holdings is China's largest medical examination center operator. It operates more than 400 medical and physical examination centers over 200 cities in China.
Yunming Hui, Chairman of MJ Health Care. For over a period of 20 years, MJ has established an international network of health management centers in Taiwan, Hong Kong, Beijing, Shanghai, and Kuala Lumpur. MJ's Automated Multiphasic Health Testing and Service (AMHTS), a world-famous health screening system, has accumulated more than one hundred million "Big Data". Marching toward "a health management platform with more than one hundred million users," MJ is drawing a new blueprint for the health screening industry.
Bi Jin, Vice President at Shanghai Zhongwei Venture Capital Management, Vice President at Healthwork Industrial Park. Shanghai Zhongwei Venture Capital Management is a subsidiary company of Tianyi Investment Group, which mainly focuses on venture capital, investment management, and investment consulting. Shanghai Zhongwei Venture Capital Management is an investment fund, which has investment experience in the medical and healthcare field more than a decade, as well as made investment in more than 100 healthcare companies globally.
Xueming Sheng, Founder of Shinuo Capital, Executive Director of World Medical Exchange Center. World Medical Exchange Center is a non-profit organization approved and registered by the Beijing Municipal Civil Affairs Bureau. It developed an international top-level communication platform for Chinese and foreign executives to discuss healthcare technology innovation, as well as introduce overseas healthcare companies and projects to China.
Gang Dong, Founder of Zhongke Yuntouhui Investment, strategic and financial consultant for emerging and medium-sized technology companies. He has more than 10 years' experience in the field of equity crowdfunding in China. In 2014, he joined NCF Group and served as the managing director. He promoted more than 300 projects of emerging companies, as well as raised over RMB 180 million. In 2015, he served as the executive vice president at the China Merchants Investment Management Group.
Xiaoning Li, Chairman, and President of Chengdu Xiuyu Health Management Co. She is the president of Zhongtang Pharmaceutical Group and Sichuan Women's Federation Executive Committee. She founded Xiuyu Health Technology Company in 2005, which has operated more than 1000 branches with more than 10,000 employees in China.
Chen Zhang, Founder of Chinese Essence Medical Group. In 2000, She founded Chinese Essence Medical Group, Deyu Pharmaceutical, and co-operated Hong Kong Chinese and Western Medicine Gynecology Treatment Center. She is also a well-known health columnist of the Hong Kong Economic Times.
Attendees:
Tan Xuhui, Founder of Chongqing Doctor online Tech. Co
Li Hao, Founder of Century Fitness Centers
Bai Chonghua, Founder of Beijing Zhikang Tech. Co
Wang Yanli, Founder of Beijing Yazhiweide Tech. Co
Ge Kai, Founder of Huaian Qiuyuan Group
Han Bin, CTO of Ciming Health Checkup Group
Liaoliao Wang, BD General Manager of MJ Health Care
Weina Jiang, Associate Dean of Meinian Healthcare Research Institute